Elsa-Marie Medeiros
Associate Attorney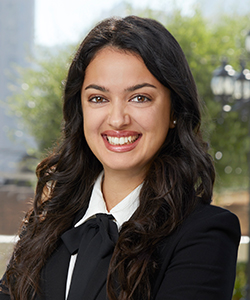 elsa@csyfamilylaw.com
Elsa-Marie has extensive experience in family law, having dedicated her legal practice solely to this area since law school. She practices all areas of family law, including intricate dissolutions that involve high-value assets, cryptocurrency, and complex financial issues. She also has experience with guardianship cases. She is well-versed in collaborating with forensic accountants, custody evaluators, and co-parent counselors on cases. She practices in all Bay Area Counties, including but not limited to, San Francisco County, San Mateo County, Marin County, and Sonoma County.
Elsa-Marie recognizes the distinct nature of each family law case and acknowledges the necessity of providing meticulous attention and care to each case so that the clients needs and objectives are met. While she possesses experience in litigation, she also offers advice and counsel to clients who wish to represent themselves but have the guidance of an attorney on the relevant law, courses of action, and drafting and reviewing pleadings and court forms.
Elsa-Marie's background in representing trauma-impacted youth in school expulsion, immigration, and guardianship proceedings provides her with unique perspective on the profound impact of trauma on children's well-being. She is a Court Appointed Special Advocate (CASA) in San Francisco County. As a CASA, she advocates for abused and neglected children in San Francisco's dependency system.
Elsa-Marie speaks fluent Portuguese, enabling her to effectively communicate with Portuguese-speaking clients on their family law matters. When she is not at work, she enjoys spending quality time with her family and friends, seeking outdoor adventures, and practicing yoga.
Awards and Distinctions
CALI Excellence for the Future Award in Mediation
Witkin Award for Civil Procedure
Publications
Building the Case for Adult Child Support. Family Law News, Official Publication of the State Bar of California Family Law Section, Issue 1, Vol. 43, 2021

The Few and Varying Published Decisions on the Presumption of Undue Influence. Family Law News, Official Publication of the State Bar of California Family Law Section, Issue 3, Vol. 42, 2020
Professional Associations and Memberships
State Bar of California
San Francisco County Bar Association – Family Law Section
San Mateo County Bar Association – Family Law Section
Portuguese American Bar Association
Hastings Pro Bono Society
Court Appointed Special Advocates
Education
UC Hastings College of the Law, Juris Doctorate & Child Advocacy Certificate, 2019
University of San Francisco, Bachelor of Arts in Politics, summa cum laude, 2014
Stanford University, Certificate in Human Rights, 2014