Helping Kids Come To Terms With Divorce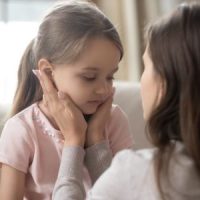 Divorce can be stressful and tumultuous for even the most mature, level-headed adult: imagine what it can be like for a young kid.
A huge percentage of children in the U.S. experience parental divorce. However, how well your child processes this re-constructing of their world rests in large part on their parents and support structure. While every parent is focused on their needs and the mandatory list of things you have to get through to get to the divorce finish line – parents would do well to remember that they can take action now that can help their children in the midst of the divorce, and reverberations may be felt for years to follow.
Why Does Divorce Hit Kids Hard?
Divorce does not erase the parent- child bond. Because of this some parents think that yes, things will change for the kids with a divorce, but the changes the kids face are not as stressful as what the parents are dealing with in the dissolution of the partner relationship….right?
In the midst of figuring out all of our own emotions and the laundry list of items that must be completed in the course of a divorce, some parents might not immediately understand why or how the divorce is impacting their kids. Remember that kids worlds are very small. They heavily rely on their parents, consistency , routine, and structure in order to support them as they seek out to understand everything around them. Divorce does not erase a parent-child relationship, but it likely will muddy the child's routine, sense of consistency, and sense of security. Even 50/50 custody arrangements will likely not guarantee that a child will see both parents every day. The child might have to move. They may be switching schools, they may now have one or two parents who are emotionally fragile. These changes might very well affect a child.
Tips for Helping Kids Through Divorce
In spite of the challenges inherent in divorce, parents need to remember that millions of happy and thriving kids have gone through a parental divorce. Much of that depends on how a parent supports their child through the divorce. Some tips for helping your family get through a parental divorce in a healthy and positive manner are:
If you are able to maintain open and healthy lines of communication with your co-parent, everyone benefits. Good communication enables better parenting. And your child will benefit from their parents having a collaborative relationship. Healthy communication can also support a less contentious divorce process where each side is more willing to give the other what they really need/want and come to a quicker, cleaner dissolution agreement.
It is enormously beneficial to help your kids keep to the same routine and rules that were in place prior to the divorce. This gives kids a sense of security in knowing that the divorce did not change everything. And allowing your kids familiarity and consistency will allow them to focus on processing the changes that do come.
Start Off on the Right Foot
Divorce is simultaneously complicated, often emotionally volatile, and the stakes are at the highest they can be. This is a recipe for trouble. By engaging with a professional from the very beginning you can ensure that you take all of the right steps, at the right time, in the right way. A professional and experienced attorney can help you navigate through a volatile situation in the quickest, most stress-free way. Engaging with an experienced attorney can help you minimize the stress of the divorce on your family. When you know that your best interests are being pursued, you have more time and space to help support your family through the divorce process.
Contact Cardwell, Steigerwald Young
Contact the distinguished San Francisco divorce lawyers at Cardwell, Steigerwald Young to speak with an experienced attorney about your divorce case.
Sources:
nypost.com/2022/06/16/three-steps-to-helping-your-kids-through-divorce-and-how-to-have-that-conversation/
psychologytoday.com/us/blog/the-blame-game/202211/divorced-parents-can-prevent-kids-mental-health-problems