Third-Party Custody, Part Two: Challenges of Third-Party Custody Suits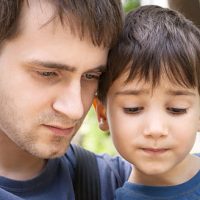 As discussed in part one of our article series, third-party custody suits are certainly a valid option for several interested parties under certain circumstances. The court's first and primary objective is to serve the best interests of children. While there is a presumption that the best interests of a child are served by staying with their parents and receiving their care; unfortunately, it is a reality that sometimes a third party stepping in is necessary.
If you are pursuing third-party custody rights there are several items you may want to keep in mind moving forward. In this article we will discuss circumstances that can make it more likely for a third party to be granted custody, and potential challenges or blockades to your pursuit of custody.
Items that Support Third-Party Custody
Those pursuing third-party custody should understand that this process is not guaranteed. The presumption that a child's parents retaining custody serves the child's best interest is strong. However, that is not to say it is irrefutable. Gaining child custody for non-parent third parties may be more likely under certain circumstances, including:
The child has been residing in the third-party's home for at least a year
You can provide evidence to the court that the child's parents consent to your third-party custody
The court has deemed the child's parents as unfit to continue caring for the child
The child's parents are deceased
Those seeking third-party custody over a minor should also anticipate that the court will examine your own ability to take on custody of the child. The court could consider many factors, to include the third-party's:
Health
Age
financial ability to support the child
The court may also consider additional factors such as the child's relationship with the third-party at hand compared to relationships with other blood relatives, the length and depth of the third-party's presence in the child's life prior to filing the custody petition, etc.
Items that Can Make Third-Party Custody Suits More Challenging
Each custody case is unique. If you find yourself starting down a path to pursue custody rights, you owe it to yourself to speak with an expert attorney who can give you specific advice tailored to your individual circumstances. Non-issues in one circumstance can be major factors in another set of circumstances.
With that in mind, there are several items that can make pursuing third-party custody more challenging in any circumstance, including the following.
The Child's Parents Do Not Consent
If a child's parents are still living and actively oppose the petition for third-party custody then the experience may be tougher. It is not a requirement that the parents agree to the grant of custody, but it will almost certainly be an obstacle that needs to be overcome. The court may have already deemed the child's parents as unfit to continue having custody. If not, you may need to provide evidence to the court that the parents are unfit. This could include evidence of mental illness, neglect, child abuse, substance abuse, etc.
Competing Claims
You should consider that you may not be the only third-party who can petition the court for custody. As discussed in part one of this series, any person with legal standing – demonstrating a sufficient connection/interest in custody of the child – might be able to petition the court for custody. Again, the court will resolve competing custody claims based on what it deems to be the best interest of the child.
Contact Cardwell, Steigerwald Young
Few things in life are as important as ensuring that those you love are properly cared for. You owe it to yourself to invest in receiving expert advice, and start any pursuit of custody off on the right foot. The experienced San Francisco child custody lawyers at Cardwell, Steigerwald Young are standing by to help. Contact our office today.
Sources:
sf.courts.ca.gov/self-help/child-custody-visitation
selfhelp.courts.ca.gov/child-custody