What Cannot Be Included in my Prenuptial Agreement?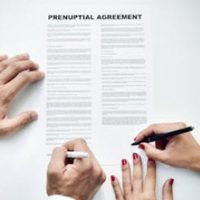 Depending on which side you are on, pre-nuptial agreements have often been thought of as the bane – or the hero – of many a divorce action.
Pre-nuptial agreements can serve many purposes and often act as heavy-hitters in protecting your estate from certain divisions that would otherwise be required in a divorce action under California law. Accordingly, a prenuptial agreement can be an important document for couples to consider enacting before you legally marry. A proper pre-nuptial agreement will outline the rights and obligations of each spouse in the event of an eventual divorce or legal separation. However – there is more to it than that. While pre-nuptial agreements can be invaluable tools, you must understand how to craft and wield them properly if they are going to work for you. A prenuptial agreement, or pieces of the agreement, will not be valid if they are in violation of principles of California law. This is why it is vitally important for readers to understand what CANNOT be handled/included as part of a prenuptial agreement. By understanding what a prenuptial agreement cannot do, you can ensure that the agreement is legally binding and enforceable on all of the items that it CAN address.
With that in mind, below is a general discussion of several items that you cannot/should not attempt to include as part of a prenuptial agreement. It is important to note that the below is not an exhaustive list. Your specific circumstances should be discussed with an experienced attorney.
Custody Arrangements and Child Support
When thinking about an upcoming wedding and marriage, it is easy to become myopic and think that everything begins and ends with us and our partner. However, that is just not the case. Some of the most important items in divorces are matters of child support and custody. While it might be tempting to try to negate the need to fight those battles should your marriage eventually end, California law does not allow pre-nuptial agreements to rule on these items. Child support and child custody are matters decided by the California courts, and the determinations are made based on an examination of what is in the child's best interests at that time. Even if both divorcing spouses agree to a specific arrangement, that arrangement is still contingent on the court approving of it. Attempting to insert matters of child custody and support into a prenuptial agreement could very well invalidate the agreement – at least in part – if the provision attempts to circumvent the court's authority.
Alimony
Similar to the discussion above, the matter of alimony is one that is decided by the courts. The court will consider various factors as they work through an alimony order at the time of divorce. There are considerations of how long the marriage lasted, how much each spouse contributed, the financial needs of each spouse, etc. The court will not allow a prenuptial agreement on a matter that the court itself must approve at the time of the divorce.
Debt Allocation
The court will generally not allow a prenuptial agreement to assign debt. The court will consider the debts of the spouses at the time of the divorce. This has a lot of logic to it, as debt obligations can fluctuate drastically over time. A prenuptial agreement cannot accurately predict what the financial landscape will look like at any given time in the future.
Debt obligations are not something that can be included in a prenuptial agreement. The court considers each spouse's debts when determining who is responsible. Additionally, debt obligations can change over time, so having them in a prenuptial agreement is impossible.
Gifts
Gifts are considered to be the recipient's property. Accordingly, they cannot be taken away in the course of a divorce, so their conditional gifting should not be included in a prenuptial agreement.
Property Division
The court will do its own due diligence in considering the contributions of each spouse to the marriage, the needs of the individuals, and needs of any children when making property division decisions at the time of the divorce. A prenuptial agreement that seeks to circumnavigate the court's authority inappropriately will be struck down.
Contact Cardwell, Steigerwald Young
If you need help in crafting or reviewing a pre-nuptial or post-nuptial agreement, call the experienced San Francisco prenuptial and postnuptial agreement lawyers at Cardwell, Steigerwald Young.
Sources:
https://t2conline.com/5-common-prenup-mistakes-and-how-to-avoid-them/
cinemablend.com/television/kanye-west-wants-prenup-with-kim-kardashian-thrown-out-but-whats-actually-in-the-document