What Is In A California Divorce Decree?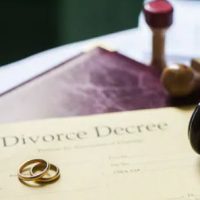 The very word "decree" may muster into people's minds a medieval picture. A King's herald, perhaps, standing on his soapbox, arraigned in gold attire and reading off of a scroll. The term "divorce decree," however, is common vernacular in contemporary times. If you are pursuing a divorce, you should be aware of what this decree is, what it entails, and how it affects you moving forward.
What is a Divorce Decree?
A "decree" is a proclamation that is enforced by a legitimate authority, or the law. A divorce decree simply refers to a court's final order and judgment regarding your divorce. The divorce decree is that final order that terminates a marriage, and will only be finalized when the divorce process has come to its end.
A divorce decree will look differently for different couples. Some couples have complicated issues of property division, others complex child support arrangements. Whatever the case may be, you can expect your divorce decree to summarize the rights and obligations that each party holds as the divorce proceedings come to a close.
What Will a California Divorce Decree Contain?
As discussed above, every decree will be as different as the couple getting divorced. While the items specifically found in your decree will be unique to you and your situation, some items you can expect may appear include discussion of issues of:  \
spousal support.
Divisions of assets or debts
Custody arrangements of minor children
Child support for minor children.
Is the Divorce Decree Enforceable?
Yes, you really do have to abide by the terms set out in the divorce decree. Both parties will be legally bound to uphold the terms of the divorce decree, though the parties may certainly petition for certain terms of the divorce to be renegotiated at a later time if the need should arise. This may happen, for example, if the need to renegotiate child custody arrangements should arise.
The judge will impose penalties to a party that violates the divorce decree, which can include holding a spouse in contempt of court.
Does the Divorce Decree Affect Third-Party Loans?
It is important to keep in mind that the divorce is separate from the contractual arrangements you signed on to elsewhere. The fact that you are now divorced, alone, does not nullify the commitments you bound yourself to separate from the divorce.
In most cases, a divorce decree will specify the details of which partner will be responsible for satisfying specific debts. For example, one spouse may be assigned the responsibility to pay off the outstanding debt on an R.V. That person may now be assigned responsibility for that debt, but let's say that the other partner remains on loan documents. If the responsible party defaults on the payments, that could absolutely affect the other spouse's credit score. In some circumstances, creditors may start seeking out both of the spouses and trying to recoup on the money owed.
Partners in these situations have legal recourses available to them – but it is always easier to avoid problems before they start. An experienced family law attorney can help you strategize on the best moves for you to make now to protect yourself and your family moving forward.
Contact Cardwell, Steigerwald Young
The experienced San Francisco divorce lawyers at Cardwell, Steigerwald Young have helped countless clients navigate through the myriad of issues that can arise in the course of a divorce case. Contact our office to speak with an expert attorney and get tailored advice today.
Sources:
cdph.ca.gov/Programs/CHSI/Pages/Vital-Records-Obtaining-Certified-Copies-of-Divorce-Records.aspx
forbes.com/advisor/legal/divorce/divorce-papers-forms/