Can Stay-At-Home Dads get full custody of Kids?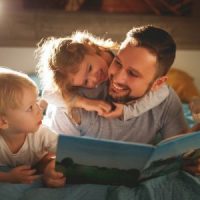 Society is changing. The idea of the traditional roles that are served in the "traditional" family are challenged every day. As social norms and the idea of gender roles continue to change and evolve, new questions are also arising. The world is pretty familiar with the idea of stay-at-home moms: but how does the court system view the role of a stay-at-home dad? How is the court adjusting to the evolving societal norms surrounding gender roles within the family, and does this impact divorce and custody decisions?
There is an ages-old, perhaps, perception that when it comes to divorce and family divisions, custody decisions will favor the women. Due to societal norms and a plethora of other factors, it would be disingenuous to state that this has NEVER happened. However, it is important to understand that the law itself, as it stands, is gender-neutral. This means that whether a woman is a stay-at-home caregiver, or a man is a stay-at-home caregiver, the decision passed down by the court should remain the same.
One major factor that the court considers when making child custody decisions is determining which parent serves as the child's primary caregiver. WHO that primary caregiver actually may be is not determined by the person's gender. Traditionally, it may have been a woman, but today a growing number of men are taking on more of these caregiver roles.
Spousal Support
So what does this mean in regard to spousal support? What should stay-at-home dads expect? Well, again, the laws are gender neutral. The situation would play out precisely the same as if the gender roles were reversed, and the male was the primary wage earner with a woman providing the primary care duties at home.
Depending on your circumstances and the length of the marriage, a stay-at-home dad might be entitled to some spousal support, or alimony, for some amount of time. Again, depending on the length of the marriage, the amount of time that support might be ordered could be a transitionary few months, to spanning a number of years. It really all depends on the specifics of your situation and what is necessary. An experienced divorce attorney can help you better understand what to expect in your own specific circumstances.
Custody
Every judge in every court in the country makes their decisions regarding custody with the idea of serving the best interests of the children. A huge factor in making custody decisions is determining who the primary caregiver is for the children. Divorce is going to shake up your life, it is going to shake up your kids' life. Keeping the status quo as it is, keeping the kids' routine as normal as possible, is generally what a judge is going to believe is in the kids' best interests.
This means that a stay-at-home dad should expect that he will retain a major presence in his kids' life, even after a judge makes any necessary custody rulings.
Remember to be Realistic
The stay-at-home dad does need to retain a sense of realism: he is not going to be able to get everything he wants. No one, in a divorce, gets every single thing that they want. Your life is going to change. Your kids' lives are going to change. Barring some pretty extreme circumstances, the court is going to believe that the child's best interests will be served by keeping both parents in their lives. Approaching divorce and custody hearings in a spirit of collaboration almost always results in a better, more fulfilling custody arrangement for both parties.
Contact Cardwell, Steigerwald Young
The experienced San Francisco child custody attorneys at Cardwell, Steigerwald Young have the expertise necessary to guide you through any twist and turn in your child custody or divorce case. Contact our office today to discuss your case.
Sources:
pewresearch.org/short-reads/2023/08/03/almost-1-in-5-stay-at-home-parents-in-the-us-are-dads/
businessinsider.com/become-stay-at-home-dad-help-men-feel-happy-fulfilled-2023-8