Military Deployment and Child Custody After Divorce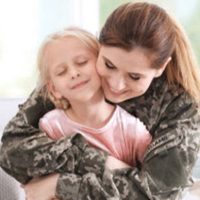 As difficult as divorce can be, there is always a finish line. That is not to say that nothing will ever pop up after a divorce and child custody agreement become finalized, but by and large, many families can begin to move on with their lives with some degree of certainty and closure.
This certainty and closure is a little more elusive for those servicemembers and their families who still have to deal with a parent who relocates periodically due to military service.
Uprooting a family, and uprooting children specifically, is recognized as being a very difficult experience. In light of this, courts across the nation have instigated various rules pertaining to what a parent must do prior to being allowed to move out of a given area, such as to move to another state. The move will have impacts on you, your child, and the child's other parent. It makes sense that these items need to be handled with the utmost care, and the decision to relocate should not be taken lightly.
A military service member, however, does not really have a huge amount of choice of where they will be sent, or when they will be ordered to relocate there. While a custodial parent to a child would ordinarily need to take certain steps to relocate, such as showing to the court how the move will benefit the child, military service is just different. And to protect servicemembers in this regard, many states extend specific legislation and caveats that give some wiggle room to accommodate military parents.
Deployment and Custody
Various states enact slightly different laws on this topic. In California, if a parent who shares physical custody of a child is called upon to deploy, any necessary changes to the custody agreement should not be considered permanent.
The courts recognize that the reason for the parent's drastic move in location is not really due to personal choice, but to their duty as a military servicemember being called upon to deploy. Servicemembers do not really have a choice as to where or how long they will be gone. When the U.S. government tells you to go – you must go.
Temporary Change
Accordingly, the California courts systems encourage couples to find an agreement between themselves, outside of court, in settling on a temporary custody arrangement to account for the time that one parent will be away in active deployment status. These changes should, generally, not be considered permanent. Once a parent ends their deployment and is able to resume their prior level of custody there really should be no reason that cannot happen, absent some other special circumstances.
If the couple cannot come to an agreement outside of court, the court may be called upon to make a final ruling on the existing custody order. However, as discussed above, the changes to the order would ordinarily only be set for the deployment period. Once the tour has ended and the servicemember returns to California then the custody agreement would revert back to the prior terms that the couple had been following (absent some mitigating factor that would require changes).
A court will determine if temporary changes to the existing orders might be required by interviewing the parents, other family members, and reviewing the specific facts of each individual case. As always, the best interest of the child is always paramount.
Cardwell Steigerwald Young
The experienced San Francisco family lawyers at Cardwell, Steigerwald Young can offer you skilled advice specific to your unique situation. Contact our office to begin discussing your case today.
Source:
army.mil/article/267633/40th_infantry_division_soldiers_mobilize_to_middle_east