What Is Parental Alienation, And What Can You Do To Stop (Or Prevent) It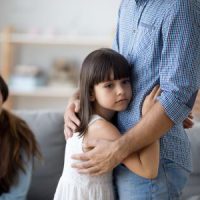 The breakup of a marriage or partnership will always be hard on everyone involved. Unfortunately, this also extends to any children involved in the relationship's dissolution.  As you, your children, and former partner navigate through the complicated landscape of divorce and child custody arrangements, you may feel that your relationship with your child is changing in ways you do not understand. A child who you never had problems with before may lash out, berate you, or disengage from you entirely. Every child handles new custody arrangements differently, but parents who notice a marked change in their child may want to look out for signs that the other parent is influencing them in a way that alienates your parent/child relationship.
What is Parental Alienation?
Parental Alienation is a manipulative tactic wherein one parent undermines the relationship between their child and the other parent. This can be accomplished through a number of means, such as:
Speaking badly about the other parent in front of the child
Blaming the other parent for any problem being experienced by the child
Making the child believe that their other parent does not care about them as much
Being more lax with rules than the other parent is
As you can see from the examples above, parental alienation can, in effect, limit the time or relationship the alienated parent has with their child by making the child reluctant to spend time with the alienated parent or foster a relationship with them.
A parent may not even recognize that they are subjecting the child to Parental Alienation. One parent may feel genuine frustration and not think about how voicing that frustration in front of the child will affect not only the other parent, but the child moving forward. Alternatively, a parent may intentionally be fostering parental alienation in order to bolster their own relationship with the child and limit the child's time or bond with the other parent.
Signs that Your Child May be Suffering from Parental Alienation Tactics
While every child will handle the hurdles involved in custody disputes differently, you should be wary of the following signs of Parental Alienation:
A formerly strong and positive relationship suddenly and irrationally becomes negative
Staunchly defends the other parent while simultaneously being overly critical of you
Is very reluctant to spend time with you, and may ask you to keep anything positive they say or experience with you secret from the other parent
Sudden and irrational withdrawal.
This sudden turn in your child is obviously distressing for you and the immediate effects it has on your relationship with your child. The long-term psychological effects of parental alienation on your child and their well-being is also an item of concern. Parental Alienation results not only in internalized negative feelings towards you, but there is also the risk it can lead to your child dealing with issues of self esteem, isolation, depression and abandonment.
Contact Us to Help You Stop (or Prevent) Parental Alienation
Each child custody and divorce situation is unique. In California there are a number of courses of action that a parent may take in order to stop Parental Alienation, or actively work to prevent it from ever becoming an issue. The experienced and dedicated San Francisco divorce lawyers at Cardwell, Steigerwald, Young can help you assess your situation and speak with you about the most effective path moving forward. Call our office today to discuss your situation.
Sources:
psychiatrictimes.com/view/overcoming-parental-alienation
familylawyermagazine.com/articles/parental-alienation-polarized-child/