What You Should Do To Prepare For Your Divorce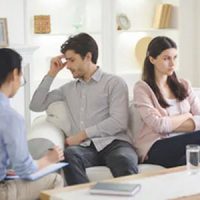 The decision to divorce should never be taken lightly. Apart from the obvious emotional toll it takes on you, your former partner, and those involved in your lives, the divorce process can also be difficult, lengthy, stressful, and technically confusing. If you have come to the difficult decision to divorce, it is easy to look at the daunting task ahead and be unsure of where to start. We recommend the following steps to ensure that you start down the path to your divorce – and new beginning – with everything you need to ensure that the transition is as smooth and seamless as possible.
Build a Support System
Every divorce story is unique, and every individual going through a divorce needs knowledgeable legal representation. The attorneys at Cardwell Steigerwald Young are ready to help you navigate through any curveball the dissolution of the marriage may bring and fight for what you want and deserve as you dissolve your marriage.
As you build up your support team it is also important to remember that divorces can be mentally and emotionally taxing. Even the smoothest divorce process will have difficult moments. Accordingly, ensure you have a support system behind you to help you through those moments. Understanding friends or family members can be very helpful, and many people find that hiring a professional counselor is very helpful. A professional counselor is an unbiased, trained professional who will be consistently available to you and professionally trained with skills to help aid people through this kind of life change.
As you move forward you should also remember that any kids involved in the marriage will be influenced by the divorce as well. It is important for a child's long-term emotional well-being that divorcing parents do not lean on the child for support in the midst of a divorce. They are going through this process as well, and you can aid them and their long-term emotional and mental health tremendously by allowing them to stay out of the emotional strain inherent in a divorce, and by ensuring that they have their own support system in place to help as they navigate this transition.
Gather Personal Information
Divorce is a legal process, meaning there will be a lot of paperwork. Ensure that you have the following information prepared to share with your Attorney so they can communicate with you and help you begin filing the forms you will need:
Valid mailing address
Proof of state residency
Social security number
Salary/hourly wage
An inventory of property (including houses, land, cars, personal property, pets) and potentially an appraisal of these items
You will also need certain information concerning your underage children or older dependents. This will include:
Full legal name and birthdate
Medical history
List of expenses
Description of current child care situation
Reach Out to Us Today for Help
Starting down the road to divorce can feel intimidating and overwhelming. The experienced San Francisco divorce lawyers at Cardwell Steigerwald Young LLP have helped countless others down this road, and are prepared to help you navigate through any obstacles and take this journey with you. Contact our office today to discuss the details of your own case.
Sources:
courts.ca.gov/documents/fl107info.pdf
sfsuperiorcourt.org/sites/default/files/images/DISSO%20A-Z%20FAQs.How%20to%20Respond%20to%20a%20Divorce.Final.June.2022.BL.pdf?1659184716989