Avoidable Mistakes in Child Custody Cases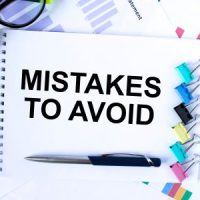 Many believe there is nothing more important than family. This makes divorce and child custody cases all the more difficult. You are facing the prospect of your life changing in more ways than one. Some families even stay together longer than they really should, for the fear a parent may have about not being able to be with their children as much as they would like.
It is only natural to be nervous or unsure ahead of child custody hearings. While in a state of stress or anxiety it can be easy to make mistakes. This is particularly true when you are diving into a complex process you are not familiar with, and you may be facing an adversarial spouse. It is crucial to understand some common mistakes people make in the process that can adversely affect your own parental rights. By understanding common errors that you can avoid, you can better prepare yourself to successfully navigate the path ahead.
Document, Document, Document
You have to build/maintain a record of what you are going to be claiming in your child custody case. Documentation encompasses any record of relevant items in your case. For example, visitation schedules, a record of interactions between yourself, your spouse, and your child, and documentation of relevant incidents, to include text messages and phone calls.
You can tell the court all you like about "this" relevant fact or "that" relevant conversation or visit you had with your spouse. But it is unlikely to do much in moving your case forward unless the incident is documented. Where you can provide a record – do.
Avoid Negative Communication
Heated discussions are pretty much a given when you are in the midst of a divorce and/or custody dispute. However, hostile remarks or actions toward your spouse will likely reflect poorly on you and can hurt your own custody case.
The focus needs to be on the child and how to prioritize their best interests. If your spouse is becoming more hostile or dangerous and you feel you must react – document what is going on. If the situation calls for it and it is safe to do so, do not hesitate to bring in a third party such as the police or a neutral third party. Mediation and/or alternative dispute resolution methods can be invaluable tools. Remember that it is your primary job to be a champion for your child's best interests, it is not your job to join a hostile spouse in their chaos.
Comply with Court Orders
Failing to comply with court orders is a significant misstep that can jeopardize parental rights. Understanding and following all court-ordered visitation schedules, custody arrangements, and any other directives is crucial. Non-compliance can be viewed unfavorably by the court and may result in a loss of custody or visitation rights. Ensure you are familiar with the terms of the court order and seek legal guidance if you have any concerns or questions.
Avoid Parental Alienation
When one parent acts to try and influence a child to see the other parent negatively: parental alienation may occur. Again, going in line with the best interests of the child being held above all else: this kind of coaching or influence is not emotionally healthy for your child. If the court does make a finding that you have acted to create parental alienation between your child and their other parent then it might impact your own rights you have over your child.
Contact Cardwell, Steigerwald Young
Contact our experienced San Francisco child custody and visitation lawyers to discuss any nuance or specifics in your own family or child custody matter.
Sources:
forbes.com/advisor/legal/child-custody/reasons-judge-will-change-custody/
davisvanguard.org/2022/10/santa-cruz-family-court-forcibly-takes-children-from-fathers-family-and-placed-in-reunification-camp/