Child Abandonment And The Termination Of Parental Rights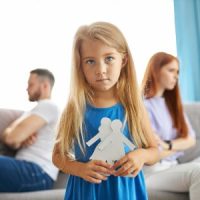 Most of the hardest fought battles in family court involve children, and arguing over what is in their best interest. When people begin a family they rarely believe that one parent will abandon the child. However, as we all know, this has always been a too-often sad reality for many children. Every state and territory in the U.S. recognizes that the termination of parental rights is, under certain circumstances, what serves the child's best interests. One such instance recognized under California law is that of abandonment of the child by their parent.
This article aims to provide a general overview of how parental rights may be terminated if an allegation of abandonment is raised in court.
Abandonment and Termination of Parental Rights
In California, a family law court may terminate the parental rights of a parent who the court determines has met the legal definition of abandoning their child. California Family Code Section 7820 provides that a parent has abandoned their child and a termination of rights may ensue if that parent:
Provided no financial support;
Had little to no contact with the child for over a year; and
Had intent to abandon your child.
The termination of a person's parental rights would strip that individual of any rights to the child they previously enjoyed as a parent. This includes custody of the child or visitation rights.
Who Can Bring a Child Abandonment Case?
Under California Family Code section 7820 any of the following persons may, generally, bring a case to court alleging that a parent abandoned a child and their rights should, therefore, be terminated:
A legal parent of said child;
A step-parent of said child;
A grandparent of said child;
An adult sibling of said child;
Another adult who has assumed care and custody of the child due to the parent's absence
When Can You Bring a Child Abandonment Case?
California recognizes several instances which constitute abandonment of a child and could prompt a proceeding to evaluate whether a termination of parental rights is in the child's best interest. Some of these instances include (but are not limited to):
A parent left the child without any identification
The parents intended to abandon the child and left them in the care and custody of another person for at least 6 months, extending no financial support or communication with the child
One parent intends to abandon the child and leaves them with another for at least one year and has not communicated with the child or provided support for them in that period
California will consider various situational clues to determine whether a person acted with intent to abandon their child. California Family Code Section 7822(b) specifies that the court will consider various factors, including a failure by the parents to provide financial support for an extended period. The court will also try to determine whether any serious attempts were made by the parent to communicate with or support the child during the time they were absent.
Contact Cardwell, Steigerwald Young
Whether you are struggling to reconnect with your child, or striving to ensure that the child you are caring for has their best interests served: contact the San Francisco family lawyers at Cardwell, Steigerwald Young. Our experienced team can help you ensure that your family's best interests are served.
Sources:
codes.findlaw.com/ca/family-code/fam-sect-7822.html
npr.org/2023/01/19/1148829974/foster-care-parental-rights-child-support