Grandparent Visitation Rights In California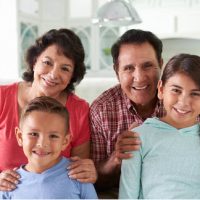 Life is  often a collection of contradictions. A very common saying in the United States is "it takes a village to raise a child." Many parents of young children know this to be very true. Both children and parents often benefit from having a number of adults form a support community around them. However, there is also a reason that millions, if not billions, of dollars have been made off of creating movies that depict families fighting one another at every holiday gathering imaginable.
The nefits kids can have from a positive relationship with their grandparents is real. However, a parent may also rightfully feel that a grandparent bond would not be beneficial in that specific family's dynamic. The idea that any chance to see their grandchildren could be taken away can be especially unsettling for grandparents who have lost their child – and it is their deceased child's spouse that is deciding what contact they can have with their grandkids.
So, what are concerned grandparents to do? Does California recognize visitation rights for Grandparents? As with nearly everything with the law…it depends.
General Parental Deference
By and large, the courts recognize a parent's right to decide whether or not their child will see their grandparents. However, there are some instances in which the court can step in and grant grandparents a level of rights.
Grandparents can file a petition with the court for a grant of visitation rights if
The child's parents are not married
The child's parents live apart
The child's parent is deceased
Even if one of the three scenarios above exists, a court will only consider granting visitation rights if it is shown to the court that:
A bond exists between grandparents and child: the court's paramount interest is always the best interest of the child. If the child and grandparents have already established a bond, the court may be persuaded that severing that bond would cause harm to the child.
The child's best interests outweigh the parent's rights to make decisions about their child: as previously mentioned, the court generally defers to a parents' decision. In general, the court operates under the presumption that a parent knows their child's needs best, and the court acts to protect the interests of the child. However, under certain circumstances the court may be persuaded that granting the grandparents' rights to visitation best serves the interests of the child, despite the protests of a parent.
How to File for Grandparent Visitation Rights
In order to obtain grandparent visitation rights you must first file a petition with the court. If a family law case, such as a divorce between the grandchild's parents, is already underway then a petition for grandparent visitation rights can likely be joined onto the existing case. If no such case currently exists, you will need to open a new case before the court. An experienced family law attorney can help you in pursuing such a case.
Contact Cardwell Steigerwald & Young
The knowledgeable San Francisco family law attorneys at Cardwell, Steigerwald & Young are available to discuss your own specific situation. Contact our office today to put our experience to work for you.
Sources:
Grandparent visitation in California | California Courts | Self Help Guide
leginfo.legislature.ca.gov/faces/codes_displaySection.xhtml?sectionNum=3100.&lawCode=FAM