Standard Of Proof In California Domestic Violence Charges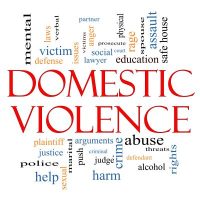 The United States may be the "land of the free and the home of the brave," but even the staunchest stout-hearted American is sure to become discouraged now and then with the rampant news stories surrounding violence. With the abundance of negative news stories out there, it can be a relief to laugh. And recently, somebody who made a lot of people laugh had the domestic violence charges that were levied against him dropped by the District Attorney's office for insufficient evidence to prove the charges beyond a reasonable doubt. How, and/or why did this happen? This article aims to further discuss the recent case of Justin Roiland, and the standard of proof in domestic violence cases.
Justin Roiland
The name Justin Roiland may be more familiar to most as the co-creator of the t.v. series "Rick and Morty" and the one-time voice of those same characters. The man behind the voice had an ex, whom it is rumored Roiland dated briefly in 2020, who made allegations that Roiland allegedly attacked her. The allegations culminated in charges of one count of domestic battery with corporal (bodily) injury, and one count of false imprisonment by menace, violence, fraud/deceit.
While Roiland was initially released on bond and later arraigned, on March 22, 2023 the Orange County District Attorney's office dismissed the charges entirely. The office stated through their spokesperson that the charges were dropped "as a result of having insufficient evidence to prove the case beyond a reasonable doubt."
Mr. Roiland stated "I have always known that these claims were false – and I never had any doubt that this day would come."
So what does it mean for a case to be proved "beyond a reasonable doubt?"
"Reasonable Doubt" Standard
"Beyond a reasonable doubt" is a standard of proof that is used in criminal prosecutions in state and federal courts across the U.S. In California, in order for a prosecutor to succeed in their case, they must be able to demonstrate/provide evidence that a person is guilty beyond a reasonable doubt. The fact that a person has been charged with a crime is not evidence that the charge is true. "beyond a reasonable doubt", in California, means that the jury is left with an abiding conviction that the charge is true. The evidence does NOT need to eliminate all possible doubt, as just about everything in life is open to some level of possible or even imaginary doubt.
When charges of domestic violence are levied, the prosecuting side has the responsibility, or the burden, to prove the legal elements of a domestic violence offense occurred, and the defense has the burden of proving any applicable defense. As in all criminal proceedings in the U.S., the accused is presumed innocent until proven guilty "beyond a reasonable doubt."
Contact Cardwell, Steigerwald Young
If you are facing domestic violence charges, or are unsure if you want to levy charges yourself, contact the experienced San Francisco domestic violence lawyers at Cardwell, Steigerwald Young. Our dedicated attorneys have helped guide countless clients through this process and are happy to work with you as you move forward.
Sources:
'Rick and Morty' co-creator Justin Roiland's domestic violence charges dropped (nypost.com)
CALCRIM No. 220. Reasonable Doubt :: California Criminal Jury Instructions (CALCRIM) (2022) :: Justia