Step Parent Adoption In California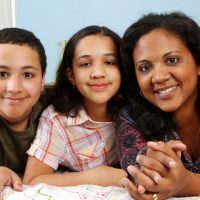 In family law, very few issues are simply cut and dry. Our Attorneys have been practicing long enough to recognize that often what is a "win" or improvement in one person's life feels like a loss to another. This concept is never truer than when it comes to relationships, time, and influence with our children. This is why it is so important to keep the best interests of the child in mind as any family matter is approached.
Regardless of the specific custody or visitation agreement a child's parents abide by, it takes time for most parents to come to grips with the changed family dynamic that must develop after the dissolution of a relationship.
On top of the initial change in family dynamic that comes with the dissolution of a relationship, an additional item that can arise down the road is the potential for a step parent to petition the court to allow them to adopt the child.
The laws, and emotional landscape, surrounding step parent adoption are complex. This article aims to provide some top-level basics on step parent adoption, whether you are pursuing the process for yourself and your spouse, or you anticipate that your ex will make such a request.
Regardless of the circumstances, all parties concerned need to remember that the best interest of the child is paramount.
What Is Step Parent Adoption?
California recognizes that a familial relationship can develop between a step parent and step child. In recognition of this, California law has developed an adoption process that specifically applies to step parents who wish to formally adopt their spouse's child(ren).
After a step parent adoption is formalized, the step parent assumes all rights and responsibilities over the child exactly as if the child had been biologically born to them.
How Long Does a Step Parent Adoption Take?
After filing a step parent adoption petition with the court, the average time for a step parent adoption to be fully completed is 2-4 months. This is just a general timeline, of course. The actual time the process will take varies widely depending on various factors, including whether one of the child's parents contests the adoption.
Parental Consent to Adoption and California Law
Per California Family Code § 9000, a step parent adoption requires the written consent of the child's other birth parent. Various circumstances can arise that make this not possible. (Refusal of the birth parent to consent, the biological father is unknown, the biological parent is deceased, etc.)
If you are in a situation where you cannot obtain consent, speak with an experienced Family Law attorney about the various courses of action you might take that can sometimes enable the step parent adoption to continue moving forward.
Stepchild Consent
California law dictates that if a child is age 12 or older, their consent to the adoption is also required. If a child is younger than age 12 then the adoption may proceed with or without their explicit consent.
Contact Cardwell, Steigerwald Young
As experienced San Francisco family lawyers, the team at Cardwell, Steigerwald Young understands the complexities that can arise both in divorce, and in the family dynamic that lives on after. If you are looking for expertise on a potential step parent adoption issue, or any other family law matter, contact our office to speak with one of our knowledgeable attorneys.
Sources:
Stepparent adoption in California | California Courts | Self Help Guide
Stepparent Adoption | Superior Court of California | County of San Francisco